You have a fire inside you...
A message you want to share...
Impact you want to have...
But getting your voice out there isn't that easy.
You
delete

a video recording 100 times and

say no

to speaking opportunities.
You know you shouldn't, but you
care what other people think

.
You don't love the
sound of your voice

played back.
You convince yourself you
don't actually need to speak up

to grow your business.
And you wish you had the
fierceness

other people do.
What if...
you knew how to ignite your INNER FIRE and
BURN the goddamn fears down? 🔥🔥🔥
You became your biggest fan.
You stopped comparing yourself to others.
You actually enjoyed making videos and doing speeches.
You knew exactly what to do when self-doubt creeps in.
You went after speaking opportunities with supreme conviction.
Introducing
F E A R T O F I E R C E
This online course helps you clarify who you are, reclaim your powerful voice and breakthrough your speaking fears.
"Sally has a way of helping you to
unlock

whatever might be holding you back, so that you can

shine.
This course helped me to understand what drives me and how I can become fiercer. Before I even completed the course, I was able to
reach the goal

I'd set!
Now, to write a new one - that's even bigger! Sally made the course easy to follow, and
actionable

.
By the end, you'll have a pathway to reach your fierce goal, and go to exercises to channel your
inner power

."

- Sarah Heimeier, Service Design Lead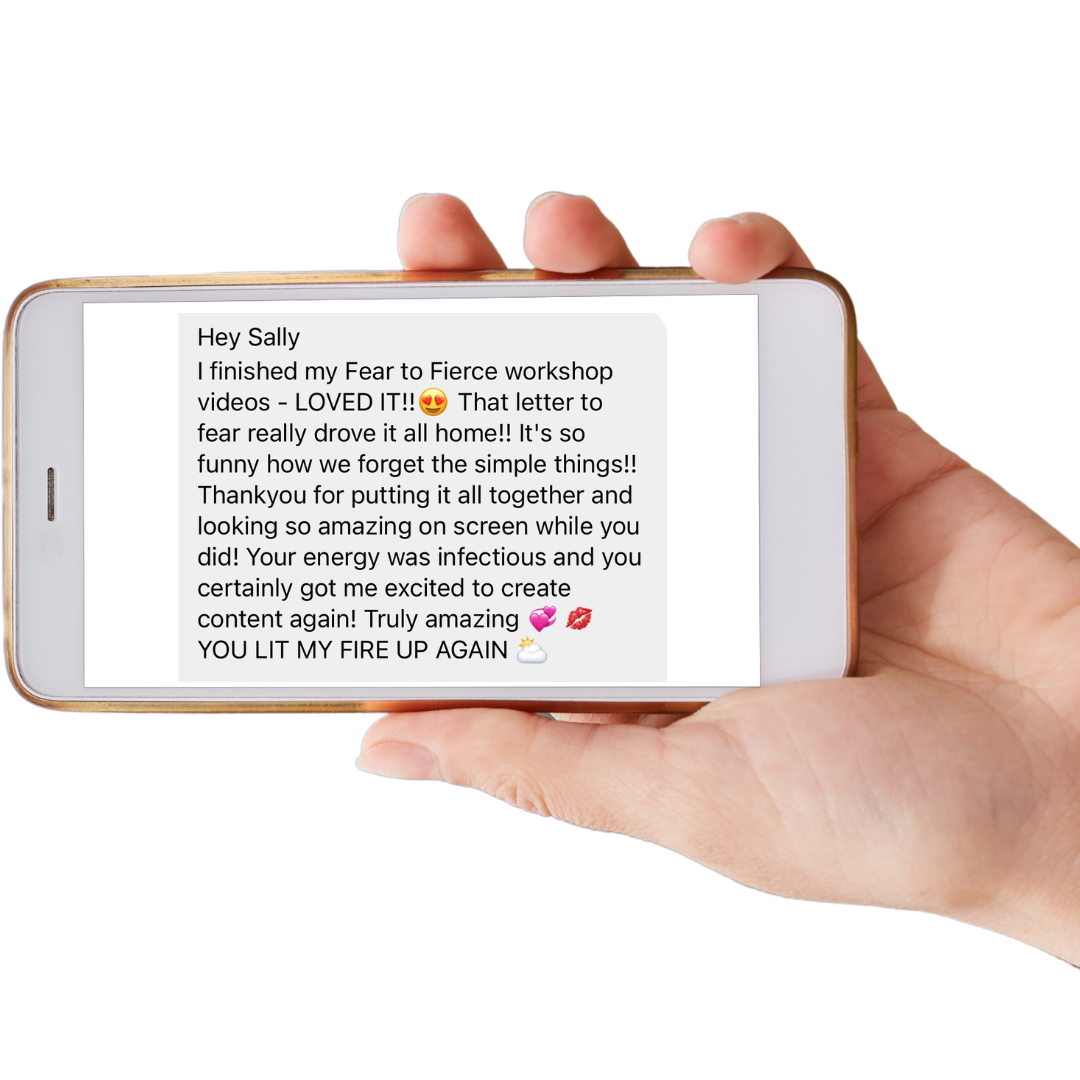 This course will give you -
A solid sense of who you are and what you stand for.
Strategies to respond to speaking fears as they arise.
Techniques to settle nerves and step into the fiercest version of you.
Practical tips to produce a voice of trust.
A clear plan to take aligned action on your speaking goal.
JOIN FEAR TO FIERCE
What's inside?
12 powerful steps to help you believe, feel, declare and claim your fierce!
We're tackling the mindset blocks, clearing fears in the body, releasing negative emotions through the voice and setting a kick ass plan for your future!
Each step only takes between 5 and 30 minutes. The results are immediate and the strategies are repeatable!
Module 1 - Believe It
✨1. Create a powerful personal metaphor that gets you to the heart of your WHY.

✨ 2. Reframe the negative beliefs you have about speaking.

✨ 3. Write a profound letter to fear. Get the tissues.
Module 2 - Feel It
💃 4. Scan your physical body for negative emotions and learn how to clear them.

💃 5. Step into a ring of power to access confidence whenever you need.

💃 6. Create signature dance moves to change your mood on cue.
Module 3 - Declare It
🎤 7. Learn the words that sabotage your speaking and what to replace them with.
🎤 8. Master a simple vocal technique to supercharge your credibility.

🎤 9. Let go of the timid voice and unleash your roar!
Module 4 - Claim It
💪10. Write a new speaking story to replace the one not serving you.

💪 11. Learn how to set clear speaking intentions.

💪 12. Drop your goal into the universe and go out there and get it!
"By doing the exercises with Sal I feel
POWERFUL!

I really

feel

it in my body.

It's amazing how very simple exercises can be so effective!

The goodness and the value to my personal being compounds every time I do one of Sally's programs."
Hi, I'm Sally Prosser!
If you think voice and presentation coaching is formal, complicated and scary - think again.
That's not my style.
Practical, relatable tips are the name of my game and it's not unusual to find me toasting the good vibes in my love heart sunglasses while lip syncing on TikTok.
As a former TV news reporter, company spokesperson and qualified speech & drama teacher, I have 20+ years experience in voice + confidence transformations.
🎓 I hold a licentiate teaching diploma in Speech & Drama (AMEB) and degrees in Journalism and Law from the University of Wollongong.
🪄 I'm a Master NLP and Hypnosis Practitioner.
💓 Certified Dharma (Soul's Purpose) Coach.
🏆 Named Young Entrepreneur of the Year (PR & Media) Qld, 2020.
📱 Have a big community on social media, including more than 300k on TikTok.
"This program helped me turn self-doubt into

unwavering self-confidence.

I truly believe the guidance and methods Sally provided

significantly

contributed to me securing my next career adventure."
- Karen Pollock, Policy Advisor
How long do I have access to the materials?
How is the course delivered?
Do I get support from you?
Why do you charge in USD?
How long do I have access to the materials?
"Sally's 'Fear to Fierce' program really helps you move away from fear and become
fierce in all your speaking

activities. There are plenty of

really practical tips.

I found it really valuable because its not just public speaking, its all types of speaking whether it's a simple meeting all the way through to large presentations

.

"

- Mel Robinson, Management Consultant